WELCOME TO MOERAKI BEACH MOTELS
Moeraki Beach Motels is situated in the charming village of Moeraki, with just a short stroll to the boat harbour, beach and playground.
Moeraki is a picturesque fishing village waiting to be explored. It was originally a whaling station and also the first choice for the Oamaru Harbour. It has an abundance of history, some of which can be found on plaques along the Millennium Walkway, Whalers Lookout and Moeraki Centenary Park Monuments.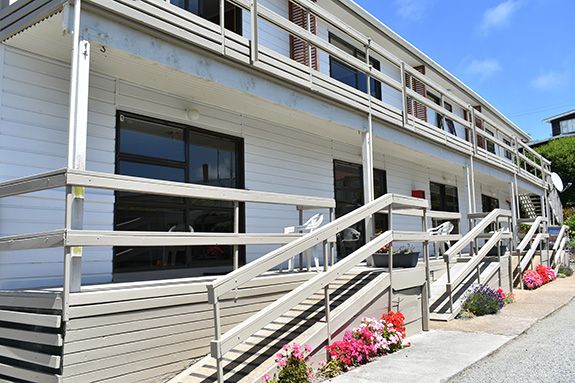 ABOUT US
We are the closest accommodation to a spectacular beach (100 metres), safe for swimming and play. The Millennium Walkway just below the motels leads to a 45-minute beach walk to view the iconic Moeraki Boulders. Five minutes walking takes you to the Moeraki Tavern where you can enjoy watching the boat harbour from the covered deck or choose to enjoy fresh seafood cuisine at the famous Fleurs restaurant. If you love wildlife drive to the lighthouse and observe the penguin and seal colonies.
With a 30-minute drive to Oamaru where you can indulge in the Victorian heritage sites or 60 minutes to Dunedin, why not make Moeraki your base for an exceptionally memorable holiday.
We hope that you enjoy your stay with us.
FACILITIES
We have 4 self-contained, comfortable and spacious 2-bedroom units (a queen-size bed in each bedroom, plus an additional single bed in one bedroom).
The bedrooms are upstairs, the living area, kitchenette and bathroom are on the ground floor.
All units are heated by heat pumps, have kitchen facilities and have harbour and sea views.
Our units are self-check-in, access details are provided the morning of check-in.
We offer free WiFi and SKY TV with 50+ channels